The Program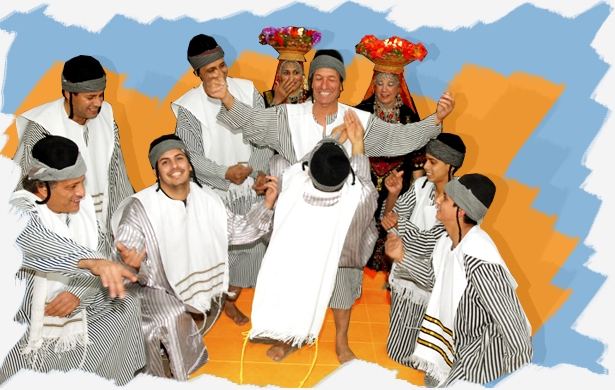 The troupe will present a scheme of a Yemenite wedding. In fact, a Yemenite wedding lasted several days and the troupe will perform extracts of songs and dances, which characterized this festive occasion.

Courting - The man pay court to the woman.

'Zefa' to the bride and 'Zefa' to the groom - The ceremonial processions, in which the bride and the groom are brought in with the accompaniment of song, dance and candle ligth.

The 'Chena' - The ceremony of spreading the "chena" on the hands by the girls.
This is followed with the singing of the song "Stand up and Dance" to the bride.

The 'Communion' - The ceremony of bringing together of bride and groom,
which was unique to Jews of the Achduf region.
It is followed by the song "Chatan, tna hodcha ale kala"
("Groom, bring your glory upon the bride"). Unveiling of the bride's face
accompanied by a song calling the bride to show her beauty.

The wedding's poems - Men's dances accompanied by the unique songs of men. Women's dances accompanied by the unique songs of women.